In what I can only assume is an attempt to cut the shipping weight of its BD cases, MGM is using Elite's abominous creation, a wholly flimsy Blu Ray Case that cuts what seems to be 40% of the plastic from the back side. The case may be almost as structually secure as it's whole bretheren, but your fingers are at risk of poking right through the plastic/paper cover. MGM must hate its customers and continues its slide from the one of the best DVD studios at its peak, to the worst. In my opionin, the decline started after its acquisition by Sony.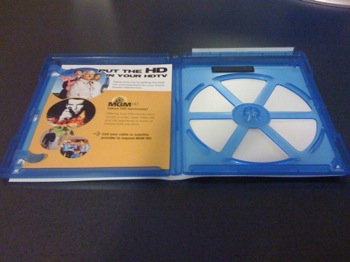 Addendum: It seems that MGM and Fox are using the case. The front case has much more cut away in the shape of a big recycle sign.



---
Some of the staff here at Slipsonic.com actually carbonated milk once. It was a glorious moment but it did not taste good. I repeat NOT. Even with strawberry flavoring. NOT. Coke will try its hand at creating this drink of myth and they've apparently figured out how to not make the milk curdle. Read about it here



---
In a very cool concept by Toyota and ad agency Happiness Brussels to promote the IQ,a new compact car that marries font design, custom image recognition software and adept driving skills, along with a web 2.0 promotion concept. The font was created by tracking colored dots on the care from a camera high above and watching it trace out all the letters with the aid of a race car driver Stef van Campenhoud. The software was designed by Zachary Lieberman and the typeface conceived by Pierre & Damien. I'd love to know the budget. Download the font here.



---
Amazon's wunderkind, the Kindle, is now cheaper at $299. With bated breath I opened the Kindle DX's page to see that …. the price stayed the same. Way to go, Amazon! The device I actually wanted is the same price while the device I have but want to get rid of is cheaper. Yay!



---
Paul smith gets a giant iPod from the industrial designer at Apple, Jonathan Ive and his collegue Jody Turner. Why can't I have one? Via Gizmodo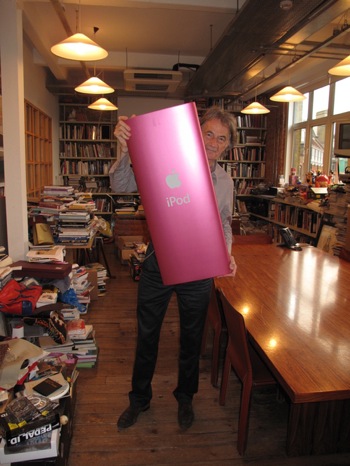 ---
WWDC, Apple's anticipated developer conference where updates to the iPhone were expected, kicked off today with a keynote and new product announcements. The conference started off on a high note demonstrating the new refinements to Leopard and a terrific new upgrade price, only $29. Then, things seemed like they were getting much better. The Macbook, which lost Firewire support late last year, gained it back! At a lower price. Huzzah! But, and with Apple recently there's always a but, they also got rid of user replaceable batteries and the expresscard slot, adding a SD slot instead. WTF? How can I add a mobile broadband card now? Or Esata support? Or an additional firewire bus? Ugh. Unless its USB you can't. Also, that 16 hour flight you have coming up, once your battery runs out, you're toast. No substituting another battery or two like I did on a recent long flight. There's still no support for matte screens which is perhaps expected. Okay, but what about the delicious new upgrade to the iPhone. A new ceramic, matte-finish, scratch proof case with a front facing video camera and perhaps a HD video camera built in? Nope. Just a minor update to the 3G with faster processor, more RAM, and a 1 megapixel increase in the camera. It has auto focus now, but just a 1 megapixel upgrade? Really? It also has a digital compass like the Google android G1 did last year. The new update, dubbed the 3Gs, is now on par which the hardware in the 2005 Nokia N95 … but it doesn't have the front-facing video camera. Okay, disappointment all around but perhaps there's one more thing … a new piece of hardware, Mac Pro price drops, a special appearance by Steve? Nope. Nada. Nothing. An what started off so promising ends again in disappointment for the Apple faithful, especially working professionals, which leaves us again with some head scratching decisions I simply do not understand.



---
We've been a fan of Powerade Zero for quite some time now. Recently, we noticed a subtle but noticable change in perhaps the best part of the drinking experience, the chunky 32 ounce bottle. The look of the brawny container seemed to imply that you were hydrating substantially and then delivered on those implications. The message around the label seemed to agree: "You are now in control of zero calorie sports drink + B vitamins. Be advised that you may be swarmed by fans who want to witness the power of electrolytes, hydration and zero calories. Good luck with that." Around February of this year, the bottle changed … but thankfully not much. While the look is mostly retained, there are some differences. The PETE bottle is lighter and thinner and not as strong as the previous container. The mouth of the bottle is smaller. The powerade logo imprinted on the bottle has changed. The angular divots on the bottom of the old bottle are gone. The older bottle was marked D188 on the bottom, the newer is marked E10.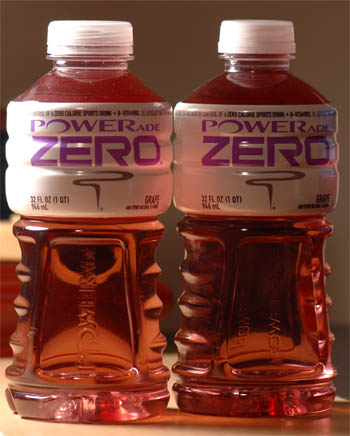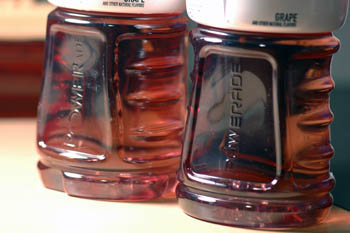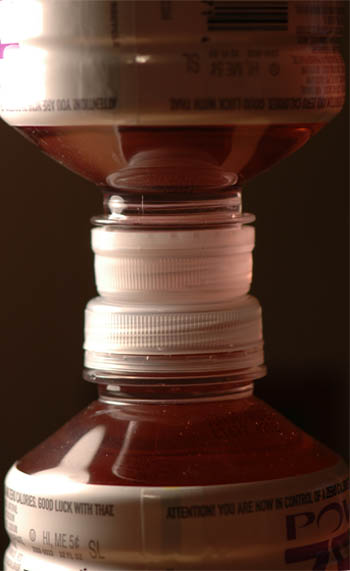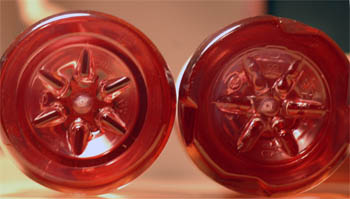 ---
We just got our copy of The Go-Getter from Deep Discount DVD here at headquarters and we noticed they're shipping dvds in a new-style mailer. It very much resembles those trays chocolates come in. The new mailer is light but protective and ensures the disc doesn't slide around. That means no more floaters! It obviously leads to less mailing costs but retains protection. We do miss the old double cardboard mailers though. Ahh, Nostalgia.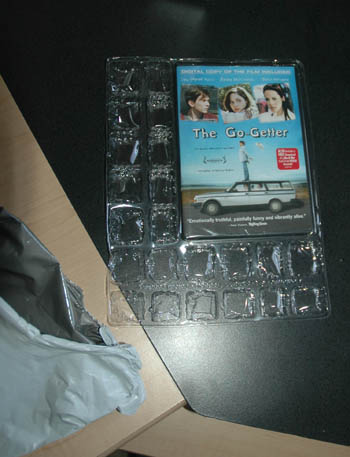 ---
Noteboek
Saturday, May 2nd, 2009 7:11 PM
This wonderful film by a dutch filmaker and artist Evelien Lohbeck. Absolutely terrific.
Noteboek from Evelien Lohbeck on Vimeo.



---
From Today's Big Thing via Boing Boing



---