Steve Jobs Dies
Wednesday, October 5th, 2011 10:29 PM
I truly feel a personal sense of loss for a person I've never met but really wanted to. Expected and Unexpected. I kind of was hoping he'd show up as a surprise at the iPhone event yesterday and now this …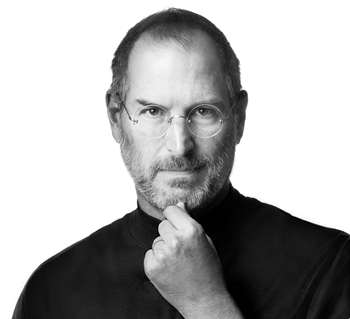 ---
In a sad bit of news, Google announced that it would be shuttering Google Labs, the experimental department where new products such as my favorites like Google Goggles, FastFlip and Google Body were all born. And now it seems they die. Very innovative stuff will be shuttered there. A shame, really.



---
This "HighTech Laser Pet Toy" by Miraclebeam is an example of the worst kind of product, one that claims more than it is. It's essentially a cheap Chinese laser pointer, a key ring type that's being marketed as much more. Here it is marketed as a pet toy. For years, it's been known that cats and dogs love to chase the dot of a laser pointer. Now, it's marketed as almost being an new experience. That doesn't really bother me. If someone wants to part with 10 dollars to give their pet a good time even if the pill batteries run out in an hour, no problemo. The problem comes when the item in question "exceeds FDA standards" when the it's actually regulated by a branch of the FDA called the Center for Devices and Radiological Health. Marketing it this way makes it seem it's undergone rigorous FDA testing like most drugs which want to be sold in the US. Further, the packaging reads "A proud USA company" and right below it, rather blatantly, it reads "made in China." I understand outsourcing labor to save costs but then don't claim to be a proud USA company. Finally, the front of the package boldly claims "the world's most powerful handheld red laser," which is perhaps the most egregious claim. There are tons that are more powerful, some powerful enough to light a match or pop a balloon. Ugh.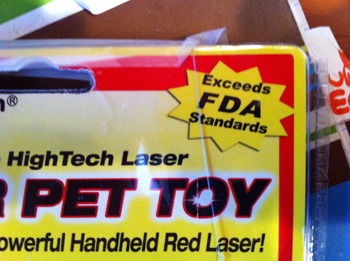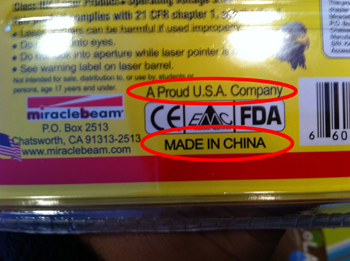 ---
It seems that the just like the Wilhelm scream, this prop newspaper makes appearances in movies from the 1960s until today, even appearing in my favorite recent comedy, Modern Family. Katalin Szűcs has painstakingly compiled screenshots featuring the paper here. Take a gander. It comes from a company called the Earl Hayes Press and allows you customize the front page but the interior always stays the same. Now if only I can track down that damn milk carton I see in all the shows.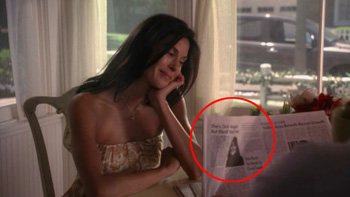 ---
Dr. Richard Wiseman, a psychologist and Magician has these amazing little tricks to share. Isn't science wonderful?
Via Boing Boing



---
For the last time this century, it's gonna be 10.10.10. I hope you find an appropriate way to celebrate.




---
Television is wonderful, isn't it?



---
Via @pogue



---
In a move that is sure to shock many, Google announced today that they were changing their name to Topeka. Complicated explanation here.



---
Grenade Ping Pong
Wednesday, March 3rd, 2010 6:31 PM
Via Roger Ebert . The video for 'Bastard' by the band Metal by Metal directed by the Glue Society



---